Featured image source: Architectural Digest
If you're looking to add some flair to your home, art can be a great way to do it. But when it comes to arranging art, there's a lot you need to know.
Not sure where and how to hang your art? Don't sweat it! We've got you covered. Just follow our expert advice on hanging art, and your home will feel like a gallery in no time.
Where to Hang Wall Art
1. Arranging Art Above the Sofa
One of the most common decorating mistakes is hanging paintings too high. The image's centre should be at eye level. Because people frequently sit in living rooms, the artwork should be placed lower. Hanging artwork one hand width above the sofa is a great technique to ensure it's at the proper height.
2. Hanging Artwork Over a Mantlepiece
image source: Houzz
Artwork on a mantlepiece can be a great way to draw attention to your home. The problem is that if you place too much art there, it can appear cluttered or crowded. To avoid this, try to keep a gap of around 15 cm minimum between the ledge and your pieces of art.
3. Conclusively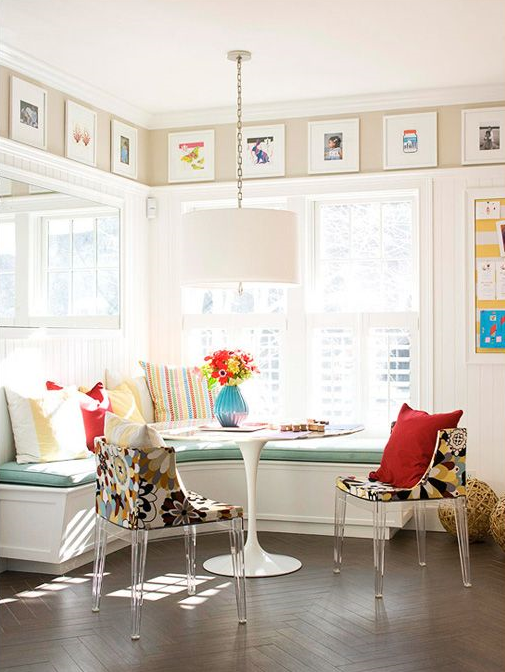 When you're choosing where to hang your artwork in your home, think about the wall space available and whether or not you want the arrangement to be symmetrical. 
Small pieces between windows and doors can be used to break up a large area of wall with little disruption. Smaller items will look more impressive if they're displayed amongst more prominent pieces, like a large painting on an otherwise blank wall. To add interest, try using larger pieces in a less prominent location—the more people have to step back to admire it, the better!
How To Hang Wall Art
1. Match Art to Décor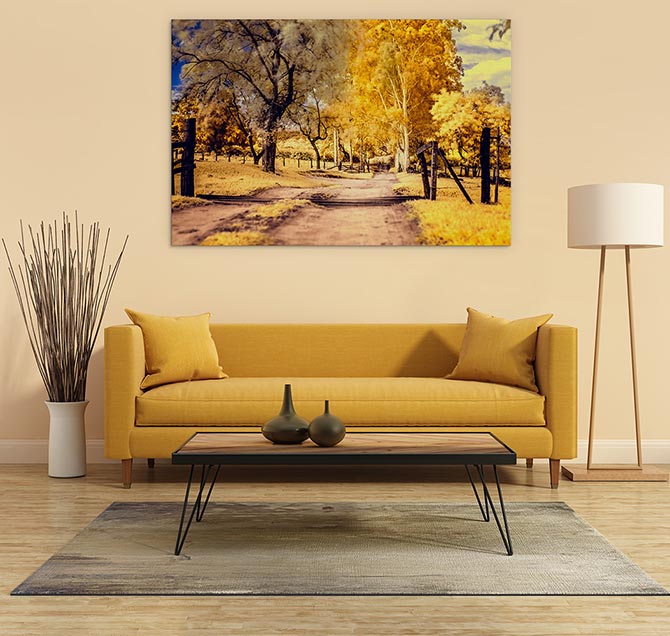 image source: Wall Art Prints
When you're deciding on the art for your walls, don't forget that it should complement the rest of your decor. Find common hues in your other furniture and decor to guide your artwork picks. 
2. Preview How Your Art Will Look Like Before Hanging
Tired of hanging and rehanging a grouping of art? Why not trace the pieces on kraft paper, label the tracing, and cut them out? If you're hanging portraits, draw arrows on the paper to indicate which way the subject is looking. It's a little more work upfront, but in the end, you'll be left with a beautiful collage of images that will make your walls look amazing!
3. Diversify How To Hang Art On Your Wall 
image source: Alice Lane Interior Design
Spacing artwork out on a wall is just one way to hang your pieces, but there are other ways to do this. Go from "art gallery" to "warm and homey" by layering artwork to add more dimension to your art display. 
Alternatively, you can also place your artwork against a wall or on top of a piece of furniture. It's simple to adjust the layout without causing additional damage to your walls.
Myriam Nader Haitian Art Gallery in New York offers an impressive collection of Haitian artwork. How to hang your artwork is important to know if you are looking to collect Haitian art. 
Please don't hesitate to browse by artist's name, size, genre & prices that fit your decor and budget to start your art collection today, and contact us for more assistance. We look forward to assisting you soon!